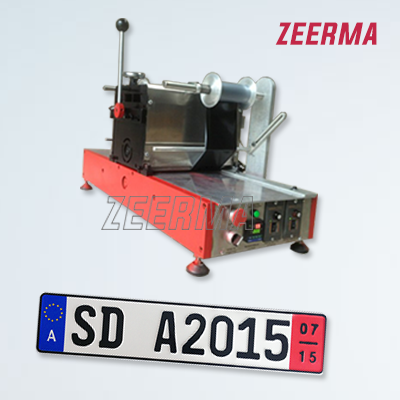 License Plate Stamping Machine – Types of Stamping Printers You Can Get
October 20, 2015
Tips to Choose the Best Number Plate Manufacturer
October 20, 2015
If you are looking for a good number plate making machine for sale, you are not alone. The license plate manufacturing industry is growing and it is becoming more and more respectable. You can find many companies and private individuals turning into licensed number plate makers, approved by the federal government, and producing license plates for lots of customers. If you are planning to become a professional licensed plate manufacturer, a good number plate making machine is what you need. Following are 6 of the best license plate maker devices available in the market.
Manual Number Plate Press Machine
As the name indicates, this is a manual device used for creating license plates by hand. The license number is manually embossed onto a license plate with the help of this type of press printer. It is very easy to use. You have to place the number dies or letter into a frame, place the blank plate in the frame center, place the frame over the workstation of the device and then press the handle to emboss the numbers one after another onto the license plate. No hot foil or oil is required for the plates.
Half Automatic Number Plate Making Machine
This device is semi-automatic in operations and is superior in quality. Its operations are pretty simple and it makes use of the hydraulic press functionality. As it is semi-automatic, it is slightly costlier but has been designed to make operations simpler and more convenient for you. It can be used to print numbers only on aluminum plates.
Laser Car Number Plate Make Machine
This kind of machine is used to do full color printing on tin or aluminum. It used double or single aluminum layer lamination structure. You can achieve both plain as well as embossed surface effect. It can be used for mass production of plates, whether in Saudi Arabia or in the U.S.
High Power Universal Laser Engraving Machine Plate Number Making Machine
It is a device of small size and can be used on varied surfaces, such as aluminum, plastic, wood, plywood, chipboard and copper. You can use it for various types of treatment, such as engraving, milling, boring, 3D-milling, cutting and etching.
Pneumatic Car Number Plate Making Machine with Certificate
It is a small-sized device and is portable. It can easily be moved and used. It has a lightweight marking head which can be used on printing on metal pipe, valve, engine and various other surfaces apart from nameplates. It is user-friendly in operations and makes use of a special type of marking software that can easily be programmed. You can fine-tune it to your own marking needs, and it is perfect for devices that run Windows OS. It has an advanced guide rail which is very accurate in operations.
Number Plate Making Machine with Multiple Heads
The device consists of as many as 3 principal axes – which can work separately or together and can make the production more efficient. You can use it to cut, carve, drill, emboss and engrave varied patterns, figures and letters onto aluminum as well as many non-metal surfaces such as wood and plastic.