20 Keywords about License Plate Manufacturing
November 17, 2015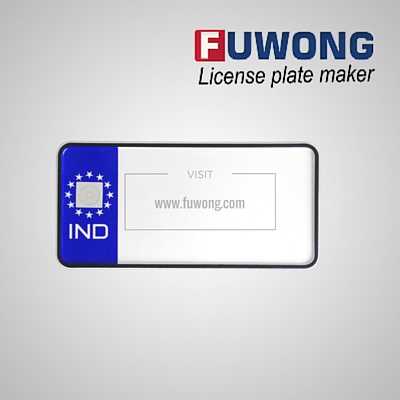 Why are HSRPs Needed Anyway?
November 21, 2015
It was on the 1st of June, 2005 when the Indian Government amended the rule 50 of Central Motor Vehicle Rules in 1989 that mandated the introduction of the new tamper-proof HSRP or High Security Registration number plates. All of the new motorized road vehicles which came to the market after this are required to adhere to the brand new plates. On the other hand, all of the existing vehicles were given 2 years for them to comply.
The HSRP is a very secure number plate that has the main purpose off brining about a uniform pattern of displaying the registration marks all over the country. The HSRPs are made from aluminum that feature one of kind details aside from the vehicle's registration number. These plates are composed of 7-digit unique laser code, the chromium-based chakra hologram for counterfeiting prevention, the self-destructive sticker with the vehicle's chassis and engine numbers, the "IND" that is inscribed in blue color, with the word India inscribed at 45-degree angle in hot stamping foil across all the numbers and letters on the plate. Finally, this comes with a non-reusable and non-removable snap lock. All of these characters have been embossed on the plate to offer better visibility.
It was on the 8th of April 2011 when the Supreme Court of India convened the transport secretaries of Punjab, Uttar Pradesh and Delhi for the contempt of court proceedings about the non-enforcement of high security registration plates. On the 30th of November 2004, the Supreme Court clarified that all of the states need to follow the scheme. Right now, all of the North East that include Gujarat, Assam, Jammu and Kashmir, Rajasthan, Karnataka, West Bengal and Goa are the mere states right now that have complied in full. The states of Jharkhand, Bihar, Madhya Pradesh, Uttar Pradesh, Maharashtra, Odessa and Chhattisgarh did not proceed after they called tenders. Apart from these states, there are several other states that have also taken the necessary action for implementing this new scheme.
Punjab and Haryana has already launched the HSRP scheme in the state. The High Security Registration Plates are already made to be mandatory for all the old and new vehicles. Maharashtra also announced that it already planned to implement this latest number plate scheme really soon.
West Bengal, Gujarat, Madhya Pradesh and Assam together with other states have now stared to give the High Security Registration Plates to the vehicles in their areas.