What is registration plate?
Definition
Registration plate usually refers to the authentic license plate issued by Department of Vehicle Management (DVM). Car owner can get the registration plate from local administration agents or makers.
Material
Aluminum covered by retro-reflective film is commonly used in most countries, i.e. EU, USA, UAE, South America, Mercosur members ect.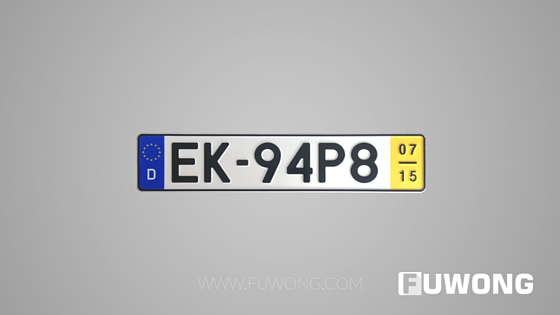 Types
As to aluminum material, reflective license plate can be divided into 2 types, that is 1-layer license plate and 2-layer license plate
You may browse our article How to distinguish license plate types for further reading about the 2 types.
FAQs:
Q: Can I order other material instead of aluminum? i.e. ABS, steel
A: Regretfully bcz aluminum material is most popular material for vehicle plates in majority countries in the world, Fuwong is focus on making license plate based on aluminum. And for ABS material, we only accept order above certain MOQ.
Q: Can I buy 1-layer plate and 2-layer plate together for my business?
A: Sure, but kindly note if you wanna process blank plate into finished product, you will need different machines for 1-layer plate and 2-layer plate separately.
For 1-layer plate, you need
molds and jig  for 1-layer plate
For 2-layer plate, you need