Custom License Plates Maker: Definitive Guide

Start With 2-Layer License Plate
What is 2-layer license plate?
License plates include 2 types: 1-layer license plate; 2-layer license plate. 2-Layer license plate refers to the embossed fonts on 2-layer plates need be ripped off instead of painting.
Pictures as below are all of 2-layer custom license plates.
The 2-layer license plate has some unique advantages as below:
No need painting: can emboss the plate and get painted fonts instantly
Quick start for start-ups
Work well with manual press machine
Able to carry different custom designs
Choose Custom 2-Layer Plate Model
Add Customization Designs
Emboss Blank Custom License Plates
Boldey Manual
Boldey manual press machine is a non-electric embossing machine for custom license plates.
Mould/Die
Molds are the font mould or die for embossing the fonts on plates. It usually includes Alphabetic set (A-Z) and Arabic numbers (0-9).
JIg
Jig is the bottom holder for holding molds in embossing process.
Victio 5 plus
Victio 5 plus is the hydraulic embossing press machine for embossing license plate by electric power.
JIg+Mould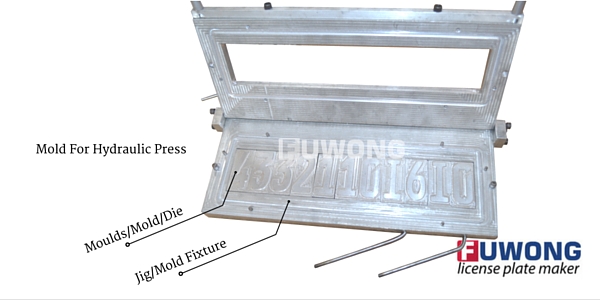 Mould/Die blocks for Victio 5 hydraulic embossing press are different from the Boldey manual press machine. And jig for Victio 5 will be made based on different plate sizes and types.
You may also be interested in: