JDM License Plate: The Complete Introduction (Japanese License Plate)
July 25, 2017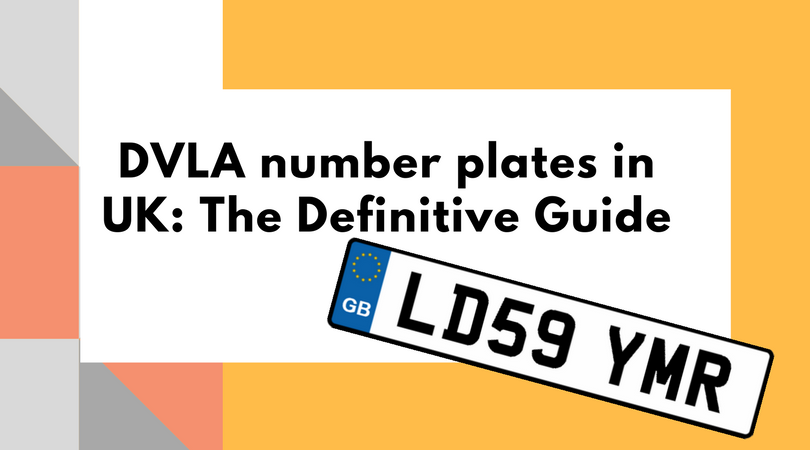 DVLA number plates in UK: The Definitive Guide
April 3, 2018
German cars are world famous. We can learn much from German car brands, but for a German license plate, what do we know? Here, we will take a look at the mysteries behind the German license plates.
What is the EU-Style license plate
In general, all EU-style license plates come in the same standardized format: white or yellow at one side, with long, black stripes. But there are subtle differences in the specific types of each country's license plate.
The Netherlands and Luxembourg use a yellow license plate; British license plates are either white or yellow; Sweden and Greece only use yellow license plates for taxis; in Norway, only the front row of vehicles (for freight) use a green and black plate; and the Danish license plate in the blue of the EU and has a holographic line on the right side.
Germany has more than 50 million "licensed" cars. The vast majority use the so-called standard EU license plate: it is bordered with blue, left outer edge has the letter 'D', on behalf of Germany (Deutschland). People living in European countries should easily guess that the letter 'D' represents Germany. Some other countries have similar changes, like Spain. On the Spanish license plate, the letter is not 'S', but 'E', because natives of Spain refer to it as España, which starts with the letter 'E'.
There are some noteworthy differences in some of the European, non-EU countries' license plates. Some countries have a blue area on the left side of the license plate but do not have the 12-star EU logo. Other countries have no blue, and complete feature their own national characteristics.
Components of German license Plate
In this next example, we look at the specific components of a license plate in Germany.
The German license plate consists of six parts:
1. The 12-star EU flag
2. Code for the country in which the vehicle is registered
For Germany, the code is, of course, Deutschland. (1 and 2 are located in the blue, with the country code below the EU flag)
3. The vehicle registration city code, with the city name, abbreviated
German license plate start with one to three letters for the city code where the car is registered in. It is generally an abbreviation like B on behalf of Berlin, M on behalf of Munich, K on behalf of Cologne.
In general, the larger the city, the shorter the abbreviation. Small cities are generally more than two letters that.
But why does 'D' represent Düsseldorf and not Dortmund (DO)? While Dortmund has a population of more than tens of thousands of people compared to Düsseldorf, Düsseldorf is deemed more important since it is the country's capital. The Lufthansa Union City code always starts with an 'H', such as 'HH' for Hamburg and 'HB' for Bremen. Why is the 'H' not on behalf of Hamburg, but HH? Because it is actually the symbol of Hanshardburg-Hamburg. So, is 'AA' is used on behalf of Aachen? No, because instead, 'AA' represents Germany's Ale (Aalen).
4. Annual inspection mark
The center has the expiration year, surrounded by the months of the year. The month had a corresponding seal mark, and the annual inspection mark color changes every year. In 2017, the mark is pink.
5. The city emblem
The emblem decal is a circle of words with the name of the city where the car was registered.
Each emblem material is different, with some stickers made of plastic. The picture below is the Baden DMV emblem.
6. Optional characters
The Germany registration number consists of one to two letters and one to four digits, which are issued in the order of the registration of the car's serial number. Additionally, the owner can also choose their own personalized number.
If the number is not before 0, 11 is 11, it will not use 0011 (combining parts 3 and 6 add up to no more than eight characters, quarterly license plate shall not exceed seven). Some Germans use the combined rules of 2 and 6 to give the license plates a new meaning.
A popular German day is the 19th, so that license plate number is extremely popular. To Hamburg fans, for example, they most like the license plate to feature "HH-SV", because Hamburg's abbreviation is "HH", and the Hamburg football team's abbreviation is "HSV". The combination of "HH-SV" then is used to support both the city of Hamburg and the Hamburg football team. Since the German license plate cannot repeat letters, the Hamburg license plate is limited to the abbreviation of "HH-SV".
Popular German license plates include custom combinations like "GE-IL" (rod), "SE-XY" (sexy), "ST-AR" (star), "DD-R" (East Germany) and so on. Some unpopular combinations are "DU-MM" (stupid) and so on.
Specific German personalized license plate
German also have personalized license plates for specific groups of people. There main eight types are listed below:
1. Vintage car license plate
In the right outer edge of the license plate, there is sometimes there a letter, like 'H', which represents that this is a classic car. The car tax on this license plate is particularly low, usually around 375 marks per year, while the motorcycle is 90 marks.
However, this license plate is not usually found, because the car must be at least 30 years old, maintained in good condition, and the vast majority of the car parts must be "original".
2. Red vintage car collector license plate
There is also a red plate, which has the location, and then the numbers '07', which is dedicated to those who collect classic cars. If a collection has a lot of classic cars, the license plate can be used together with these vehicles, but only up to 10 vehicles.
In addition, there cannot be more than one type of these classic cars in one collection. Cars with this license plate are only allowed to go to classic car parties, for public view, or on the way to be sold. For this type of classic car, all original parts are required for it to be considered.
3. Green license plate
The green license plate is used for a non-car vehicle. Agriculture and forestry vehicles, bucket cars, working machines and public welfare organizations can often have such vehicles.
4. Export license plate
Export license plates are only valid for one year. This German license plate has one to four numbers, a letter, and a red sticker. This car is ready to be exported. To obtain this license plate, the vehicle must go through safety inspections and have insurance.
5. Seasonal license plate
In Germany, some cars are not used all year round, so you can apply for a seasonal license plate. For example, the license plate will say that the car is only driven from April to October.
This license plate is basically the same as the European license plate. The difference is that on the right side, there are numbers that indicate the months where the car is allowed to be driven. For example, "03-10" means March to October. In this period, this car is not allowed on the road. The advantage is that this car is only taxed during the months when it can be driven.
6. Short-term license plate
There is a short-term license plate for driving, testing or trading. This German license plate is valid for a maximum of five days. The plate is similar to the standard license plate, and always starts with 04. The yellow area has the plate's last day of validity.
7. License plate for Automotive Dealer
The car industry also has a specific license plate. This German license plate can only be used to try, test or cars that are on the way to be sold. The difference is that this license plate can be used repeatedly, and is not limited to a car. This license plate is characterized by a red box with red
This license plate is characterized by a red box with red characters and always begins with the numbers 06. Car manufacturers, sellers, and repairers can use this license plate.
8. Diplomatic license plate
Diplomatic license plates in some South American countries may not have words, and there are no words in Germany's diplomatic license plates. The beginning of this license plate is always a 0. For example, 0-29-1.0 designates a foreign car, and the second string of numbers following 29 is the country code. 1 is usually given to an ambassador's car.
There are two letters at the far right: CD, meaning "corpsdiplomatique". If you see a car starting with B (on behalf of Berlin) or BN (on behalf of Bonn), followed by a separate number, then this may also be a diplomat, or some other institutions that enjoy similar treatments to that of a diplomat.
Wanna start License Plate Business? Get Free support from us!